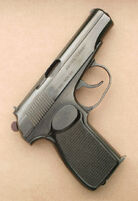 The Makarov, also known as PM (Pistolet Makarova, Russian: Пистолет Макарова), is a semi-automatic pistol that going to appear in Agent.
It's seen in the game's logo, inside the "G". The pistol was first made in 1951 by Nikolay Fyodorovich Makarov, and was used in many wars (including the Cold War) by many countries, mainly Russia and is still used today.
Ad blocker interference detected!
Wikia is a free-to-use site that makes money from advertising. We have a modified experience for viewers using ad blockers

Wikia is not accessible if you've made further modifications. Remove the custom ad blocker rule(s) and the page will load as expected.